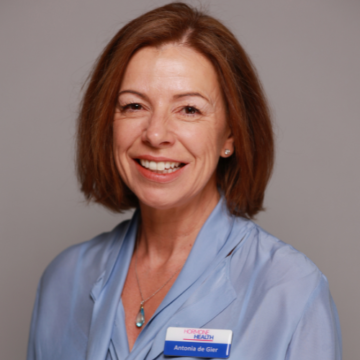 Antonia de Gier
Associate
BA, DipION, BSc (Hons) Nutritional Therapy, mBANT, mCNHC 
Areas of Expertise
Antonia de Gier is a registered nutritional therapist, who has trained at the Institute for Optimum Nutrition (ION) to understand the latest research in hormone health. 
Qualifications and Employment (training)
Diploma at the Institute for Optimum Nutrition (ION).

 

 
Bachelor of Science honours degree at the Centre for Nutritional Excellence and Lifestyle Management (CNELM) affiliated with Middlesex University.




 

Helped to set up and worked at the Food Doctor.
Previously tutored at the Institute for Optimum Nutrition (ION) and saw clients privately.

 
Personal Interests
Antonia's studies included neurolinguistic programming and behaviour change techniques. She enjoys the endocrine aspect of nutrition and is looking forward to helping clients at Hormone Health by supporting those experiencing perimenopause and menopause and the physical, hormonal, and mental symptoms that accompany this natural phase of life through diet, supplementation, and lifestyle support.   
She will work closely with all of the Hormone Health Associates to provide this complimentary assistance alongside any medical and HRT support. She is available for both face-to-face and online consultations.  
Get in touch. We can help.
The Hormone Health Associates are here to advise and support.
Arrange a consultation with Antonia de Gier
+44 (0)808 196 1901