The 30th World Congress on Controversies in Obstetrics, Gynecology & Infertility (COGI) 24th-26th November 2022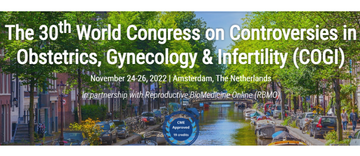 COGI and RBMO are delighted to announce the 30th World Congress on Controversies in Obstetrics, Gynecology and Infertility. The congress will take place in Amsterdam, The Netherlands from November 24-26, 2022.
COGI usually attracts over 1,600 participants from over 100 countries and during the corona pandemic in 2021 over 1,000 have joined the hybrid event onsite and online.
Following this success, COGI looks forward to welcoming world-renowned leaders in the field of Ob/Gyn and infertility, to review advances, breakthroughs, and controversies. The timetable will comprise of round table discussions, debates, and lectures. Program highlights will include the "Robert G. Edwards Nobel Prize Laureate" lecture, cutting edge "counter current" lectures by leading experts "who think differently".
Sessions include genetics, women's health, PCOS, POI, prenatal diagnosis, pregnancy support, age-related risks, nutrition, the epidemic of multiple pregnancies, menopause, and more. The program will allow for exciting and interactive speaker-audience discussions within every session.
COGI is delighted to welcome an esteemed faculty of experts in the field of IVF/ART/Infertility, Gynecology and Fetomaternal Medicine including Director of Hormone Health, Prof Nick Panay.
Get in touch. We can help.
The Hormone Health Associates are here to advise and support.