CMS 4th Biennial National Scientific Conference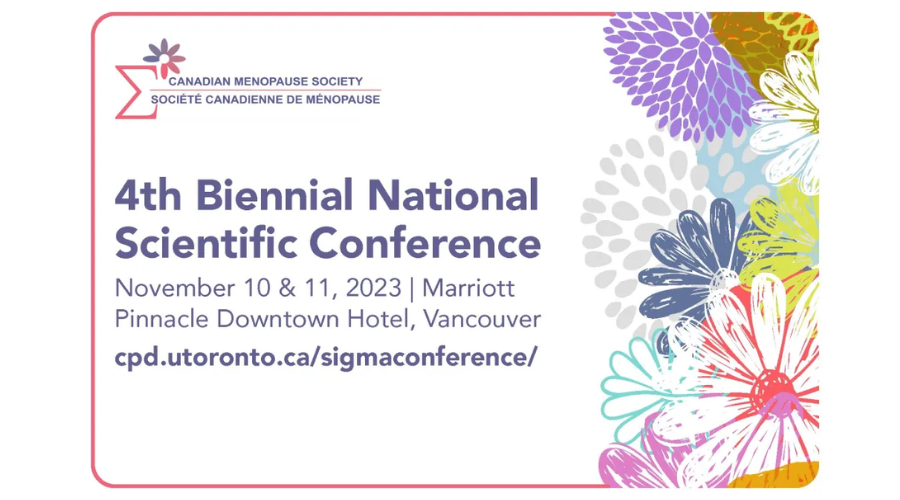 The Canadian Menopause Society 4th Biennial National Scientific Conference, 10 & 11 November 2023.
About the conference
The theme for the event is "Menopause: Modernizing Management".
This year, the program's goals are to: improve menopausal health management by reviewing the most recent innovation in menopause therapy; reinforce the knowledge of diagnosis and treatment of menopausal symptoms; and bridge different areas of menopausal care into one robust and comprehensive program.
The conference will include Keynote Symposia and Plenary Sessions covering salient topics in Perimenopause, Menopause, Osteoporosis and Aging. In addition, the conference will address issues of menopause in the workplace and at home. The conference will be delivered live, in person, and each session will be recorded and available for all registrants after the conference.
The mission is to provide much needed, current, evidence-based knowledge on menopause management.
Keynote speaker
The conference keynote speaker is Professor Nick Panay, Hormone Health Founder and Director, and President of the International Menopause Society.
His keynote talk is on "Premature Ovarian Insufficiency and Early menopause: The latest guidelines"
More information
Further details about Canadian Menopause Society (CMS) 4th Biennial National Scientific Conference can be found on the CMS website.